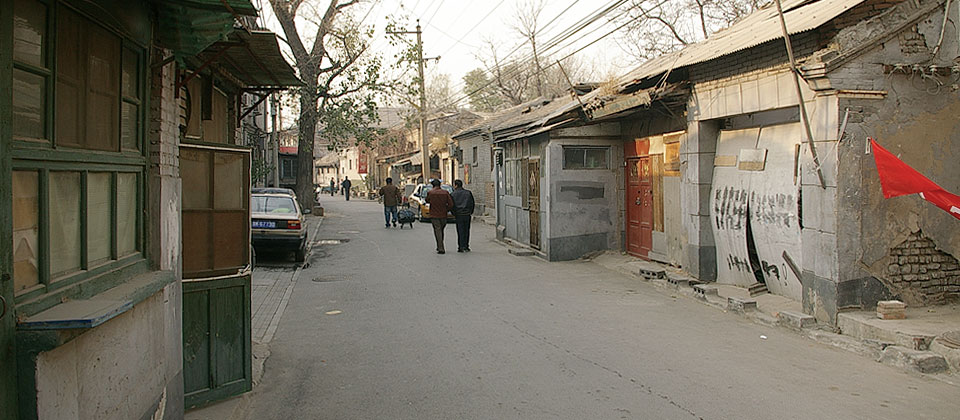 Documentary
For many years the city of Beijing had been under reconstruction, however urban renewal gathered unprecedented momentum in the lead-up to the 2008 Beijing Olympics. As the ancient city was overcome by frenzied change, Eckard Buscher travelled there twice in 2008 to document buildings and streets and quickly observed the destruction and redevelopment of historic areas.

Called hutongs, Beijing's centuries-old neighborhoods with their narrow lanes and dense networks of traditional courtyard houses (siheyuan) were being torn down swiftly and without sympathy. Residents were given small compensation and relocated elsewhere to high-rise apartments.

The atmosphere was one of sadness and confusion as the social fabric was obliterated along with the buildings. A marketplace once thriving with
commerce and community was pulled apart. Vendors still came with their vegetable carts, locals still came to shop, but it seemed they were all just hanging on, searching for something that would never return. The life that flowed through the crowded streets, dynamic and intimate, came to a trickle. And everywhere signs and hoarding boards continued to be erected signalling the oncoming destruction.

Some of the most valued examples of residential architecture belonging to old Beijing were located in the hutong surrounding the Forbidden City. In accordance with the customs of the time, status determined the proximity of a family's residence to that of the Emperor. The more elite, the closer they lived to the Imperial Palace. A fine siheyuan home was spacious and designed around an internal courtyard to serve a single family over many generations.
The influx of rural migrants since the 1950s resulted in the division of these residences to accommodate several families. Although living conditions changed drastically, the sense of community was reinforced. Dilapidation, overcrowding and a lack of basic amenities are all problems associated with everyday life in the hutong. Furthermore, these low level buildings rested on prime real estate. Despite any arguments for conservation, demolition went ahead.

Those areas fortunate enough to survive the wrecking were restored while other areas were completely rebuilt in a 'hutong style' for the enjoyment of tourists.

Reviewing these photographs creates a swirl of mixed feelings. It's a mélange of nostalgia, poignance and privilege that only those who have witnessed a place disappear can recognise.